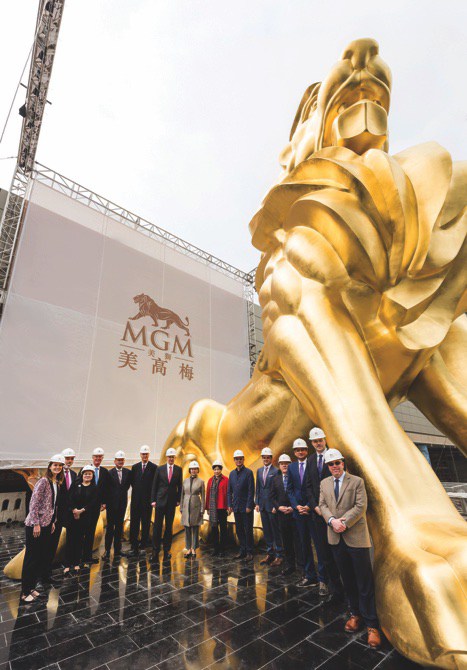 MGM unveils lion statue, announces Chinese name for Cotai property
MGM unveiled its golden lion statue at MGM Cotai yesterday, with the announcement of the integrated resort's name in Chinese "Mei Si Mei 美獅美高梅, meaning "Beautiful Lion, Beautiful MGM." The ceremony was officiated by Pansy Ho, co-chairperson and executive director of MGM China Holdings Limited, as well as MGM's team of senior executives.
"This gold-gilded lion statue reveals our passion and dedication for MGM Cotai and its significance. Our gratitude and appreciation goes to everyone who has contributed in bringing this statue to life over the last three years," said Pansy Ho "With prominent presence in Macau, the two properties of MGM each possesses distinctive characteristics strategically put in place to enhance the city's diversified non-gaming offerings
in broadening its economic diversification while positioning Macau as a world leisure and tourism destination," she continued.
According to a press release issued yesterday by the gaming operator, the new golden statue "provides an iconic entrance to MGM Cotai" and constitutes "a testament to MGM's legacy in artistry and entertainment."
The lion statue, MGM's emblem, stands at 11 meters in height and weighs 38 tons, and is the first MGM lion statue to be gilded in 24-karat gold with the use of approximately 32,000 sheets of gold foil. The lion sits adjacent to the new resort's North entrance.
MGM stated its hope that the statue will become "an important landmark attraction to all visitors and a signature icon of Macau to greet visitors from around the globe."
For more see: macaudailytimes.com.mo