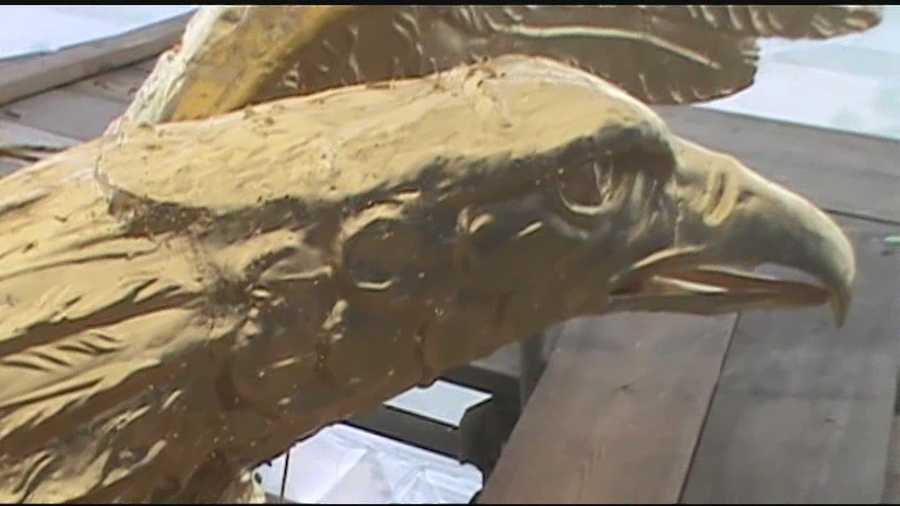 Eagle on the Capitol gets new gold finish
Jackson, Miss. —
You can't miss the crews working at the state Capitol as the renovation processes is ongoing. The eagle on top of the Capitol building has a new coat that's 23 3/4-karat gold leaf.
Thursday, 16 WAPT's Bert Case got access to some exclusive video of the re-gilding process.
The metallic bird is 112 years old, and had to be taken down and repaired after Hurricane Camille in 1969. However to give the 15-foot eagle a new paint job the bird was left on the building due to fears of damage if brought down again.
"We press the gold leaf against the surface, which has the glue on it and then you will see us patching in with other tools and then we are smoothing it with hair brushes," said artist Michael Kramer.
Experts said the scaffolding around the eagle is expected to come down in a month or so but remains around the dome for several months.
Capitol Project architect Lawson Newman said the eagle is a small piece of the restoration process.
Lawson said the total bill of the entire Capitol building project is $7.4 million
The gold leaf will last 30 to 35 years, according to the artist.
Source: https://www.wapt.com/article/house-fire-under-investigation/30822088