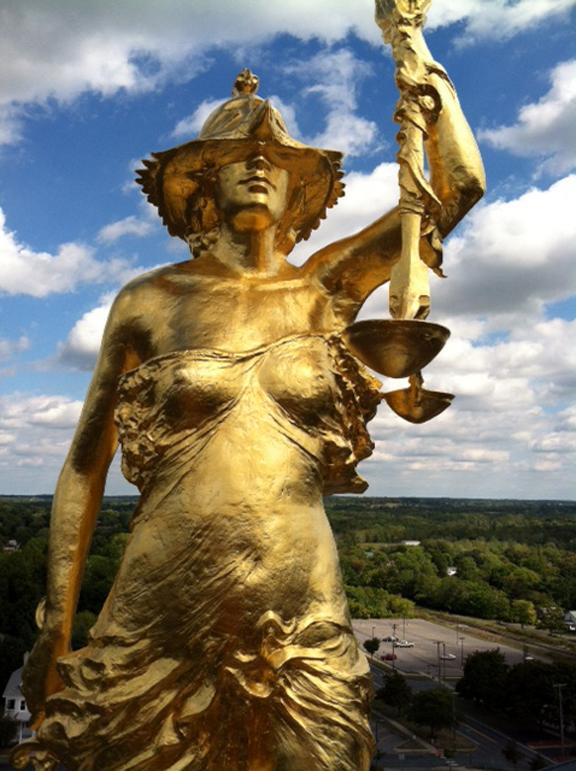 Lady Justice returns to perch atop Ontario County Courthouse
By Erinn Cain and Scott Pukos, staff writers
Posted Sep 18, 2012
The statue was revealed Sunday after being restored in gold leaf.
She's back.
Lady Justice, the 14-foot aluminum statue that resides atop the Ontario County Courthouse in Canandaigua, returned to its perch above the city Saturday after a nearly month-long absence. The newly-restored statue was heavily wrapped during its ascent back to the top of the courthouse and remained so until Sunday, when crews from The Gilders' Studio, Inc. of Olney, Md., unwrapped it, did spot repairs and gave a final inspection.
"I think it looks fabulous," said William Wright, Ontario County commissioner of public works. "I think we should have done the project more than a few years ago. Keeping the gold leaf keeps a sort of brilliance."
The statue was removed from the courthouse Aug. 18 by crews from Canandaigua-based Klug Crane Co., Farmington-based Sanford Industries and county crews, and transported to Maryland, where The Gilders' Studio restored the statue in gold leaf.
The reason for removing the statue from the courthouse was simple — it needed a makeover. Before the restoration, Lady Justice was last refurbished in 1983. Prior to the current aluminum model, two wood fabricated statues took their turns as the symbol of justice in Ontario County.
"With the exception of a few brief periods in history, the Ontario County Statue of Justice has sat atop the Ontario County Courthouse since 1859, serving as a symbol of both justice and the home of county government," said Ontario County Administrator John Garvey.
In addition to restoring Lady Justice's gold leaf surface, the $90,000 county-funded project also included refurbishing the cupola and dome area where the statue sits, said Wright.
The project was a team effort, he said.
"Everyone took a lot of pride in making sure the project went well," said Wright. "It turned out great."
Read more at: www.mpnnow.com