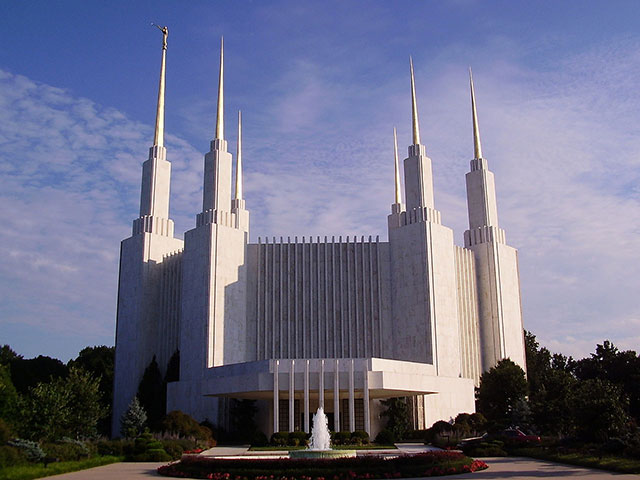 A Golden Opportunity to See Old-World Artisans
By John Kelly
(http://www.washingtonpost.com)
God works in mysterious ways. And when He doesn't want you hanging a huge halo off the steeple of one of His churches, it's best not to hang that halo.
See, the six spires on the Mormon temple in Kensington are covered in gold leaf, as is the statue of the angel Moroni that tops the tallest steeple. In the 30 years since the temple was built, pollution and weather have taken their toll on the precious metal, dulling its once-lustrous sheen.
It was time to put on a new layer of gold.
The original plan was to use a helicopter to lift a huge circular platform — a "halo" — around each steeple, providing a stable work surface for the gilders. It would have been the world's biggest game of ring toss.
But on the day the helicopter went up, it was clear that just wasn't going to work. It was too windy.
If the gilders couldn't go to the steeples, the steeples would go to the gilders.
A team of steeplejacks scrambled up the spires and began removing the gilded steel panels that cover the underlying skeleton. The workers latched them to a rope and lowered them.
That's where Michael Kramer and his team took over. Michael runs the Gilders' Studio in Olney, and last week I watched as he and Lisa Da Silva worked their magic in a trailer tucked away on the temple grounds.
The panels were all different sizes, depending on where they were attached. The old gold was blasted off. Pockmarks left by not-infrequent lightning strikes were replaced with new metal. The panels were primed and then sprayed with a sizing that left the surface slightly tacky.
The gold leaf — 23 3/4 karats — is beaten to Michael's specifications by a 186-year-old company in Florence. He and Lisa unrolled it from its paper backing and spread it across the panels, then used squirrel-hair brushes to smooth it down.
And that was it. No special glue. No protective varnish. Rub the fragile gold leaf between your fingers, and it smudges like a butterfly's wing; put it on a steeple, and it's strong enough to withstand the elements for another 30 years. It's the same technique gilders have used for centuries, and which Michael has employed on such previous jobs as the dome of the Library of Congress's Jefferson Building and the cross on the Church of the Holy Sepulchre in Jerusalem.
Michael used it on his house, too. To test a new sizing, he gilded all the stacks that sprout from the roof.